Hey there! We are here to guide you throughout your journey with Infeagle. Do you know how simple and easy we have made it for you to upload an article here? Give it a look yourself.
We hope you have read Our Guidelines before we get started.
Firstly, Click on this link it will take you to the Home page of Infeagle.
This is what the home page looks like. You will find this icon marked with black colour in the image on the Menu bar. Click the icon.
If you already have an account at Infeagle, you can just log in. Else, you will have to register, by clicking the Register Option.
After you login or register, You are back to the Home page. Click on the Add Post button then click on the Story Option.
Here you have all the tools you would want to decorate your article with!
You can add links to the various text in your article, you can do it by following the given method.
Select the text on which you want to insert a link.

Click on the Link icon as in the below image and insert the link.
You can Quote people or sayings as well!
You can insert images by either uploading them from your files, for by just the age-old, Copy-Paste method!
Click on the Image icon as it is in the below image.

Drag the image from your pc or just click it on and upload the image you want to.
You can also embed videos and images from Facebook, Instagram, and YouTube by pasting their URL, follow the given steps:
Click on the video icon as it is in the below image.

Take the URL of the video from Youtube or other platform and paste it down here and hit the Insert button.
Choose a suitable category after drafting your article.
You can add tags to your post as we give hashtags in Instagram by simply entering them in the tag tab below category selection.
Remember to Preview your article by clicking the Preview button before publishing it.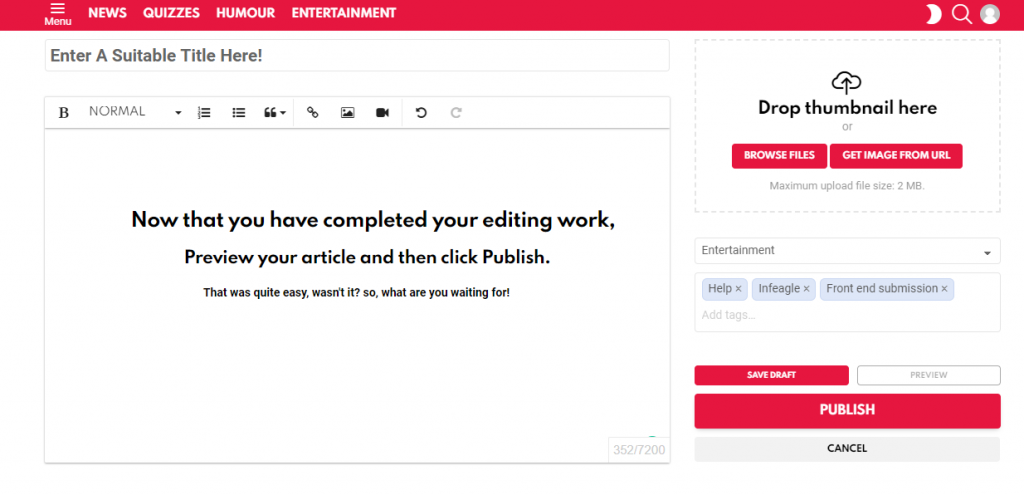 Tada! you are now ready to publish your write-ups. So, what are you waiting for?
Good luck, 


Team Infeagle.