If people say 'Pizza time!' and all you hear is 'Experiment Time!' then you have arrived at the just-right place! Take a peep into the 10 most unusually tasty pizza topping ideas that will give your pizza a lip-smacking makeover!
Here is a list of 10 mouth-watering pizza topping ideas:
10. Margherita Pizza:
First up in our pizza topping ideas is the legendary MARGHERITA. How can you even go wrong when you are dealing with tomatoes, mozzarella and basil? It's simple and unavoidably tasty.
The key to this one is our incredible 5-ingredient pizza sauce, it tastes like heaven on the pizza crust. And don't add the basil leaves before baking else it'll turn brown! Here's the list of toppings to make your Margherita Pizza extra special:
Pizza Sauce
Fresh mozzarella cheese
A thin layer of Parmesan cheese
Thinly sliced basil leaves (added after baking)
9. Taco Pizza: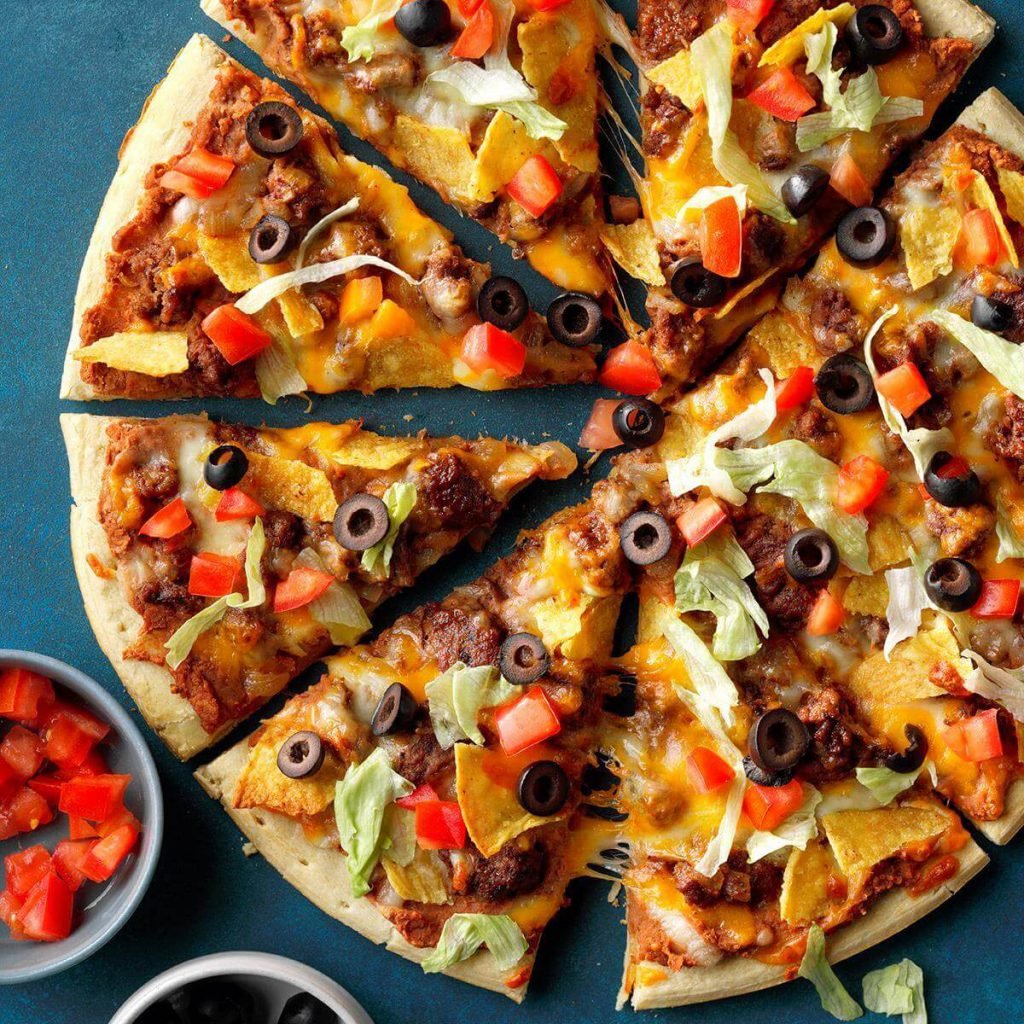 This is one of our personal favourite pizza topping ideas because it's a huge party-pleaser. Yes, that's artisan-style Italian crust in the bottom and an extremely delicious taco-style pizza. The crown jewel of this pizza is its exotic toppings, check out the list below!
Refried beans
Cheddar cheese
Sliced green onion
Sliced black olives
Romaine lettuce
Chopped tomato
Crumbled tortilla chips
Ranch Dressing
8. Spinach Artichoke Pizza: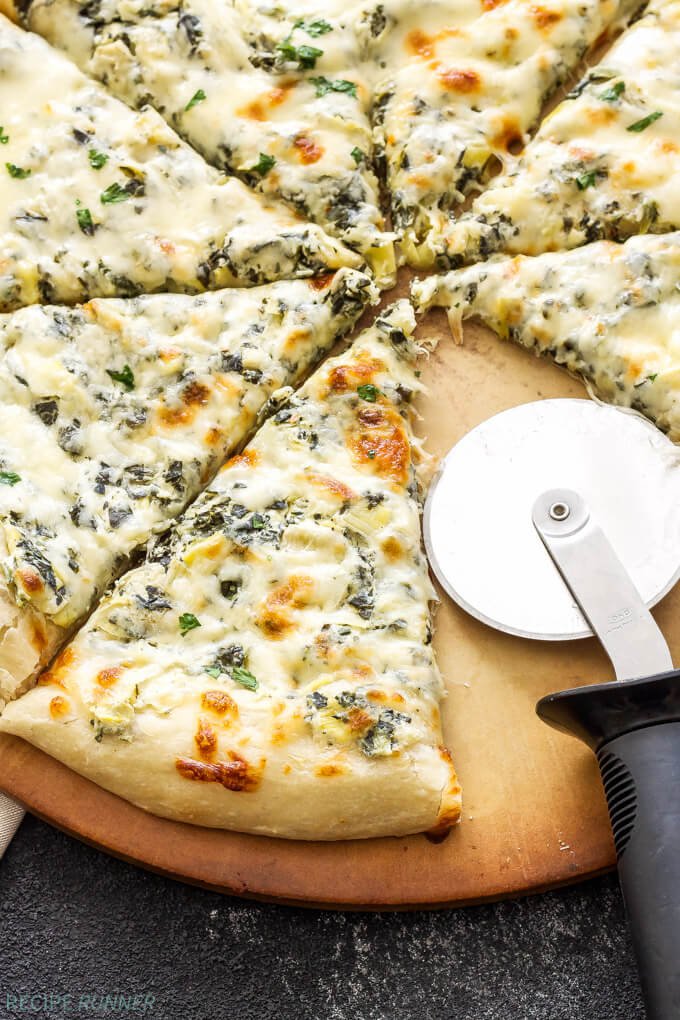 Are you not excited to turn your dip into one of the wittiest and finger-licking good pizza topping ideas? This topping has always stood out in parties as one of the most savoured pizzas. Peep into its awesome pizza toppings list:
Garlic
Spinach
Chopped artichoke hearts
Mozzarella cheese
Pecorino Romano or Parmesan cheese
7. Veggie Supreme Pizza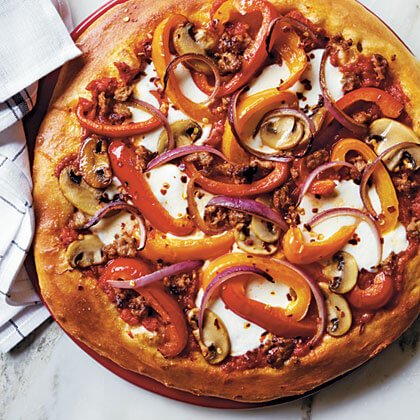 Veggie supreme is the ideal pizza type, that is made with absolutely your choice of veggies. However, here is one of our secret pizza topping ideas: Saute the mushrooms with fennel seeds. when you do so, the taste of your pizza becomes excellent.
Here is the list of the most suited pizza toppings for this pizza!
Pizza Sauce
Shredded mozzarella cheese
Green & red bell peppers
(You can add your choice of veggies)
Thinly sliced red onions
Mushrooms sauteed with fennel
Feta cheese crumbles
Sprinkle of dry oregano
6. Pesto pizza
Can you imagine how the combination of simple ingredients like basil pesto, tomatoes and mozzarella cheese can create wonders on the pizza crust? It is almost like a Margherita pizza, but with a more lip-smacking flavour.
Try to find a really good basil pesto as it makes one of the most outstanding pizza topping ideas! Take a quick look at the toppings list for this pizza:
Basil pesto
Shredded mozzarella cheese
Thinly sliced tomatoes (slice them as thin as possible and marinate them with salt and a dash of pepper)
5. Spicy Diavola Pizza
Do you like spicy food? If so, here's a pizza is a made in heaven (oops, sorry! hell) for you. If you did not know this before, Diavola literally means devil in Italian.
If you still did not get this, Diavola pizza features sliced Calabrian chillies and hot pepper just in the right proportion kinda spicy! You can always use Fresno chillies if you are not able to find Calabrian chilli.
Here is a list of tasty pizza toppings to make your Diavola pizza more awesome!
Pizza Sauce
Fresh or shredded mozzarella cheese
Thinly sliced Fresno or Calabrian chilli peppers
Kalamata olives
Fresh basil (add it only after baking)
4. Mexican Pizza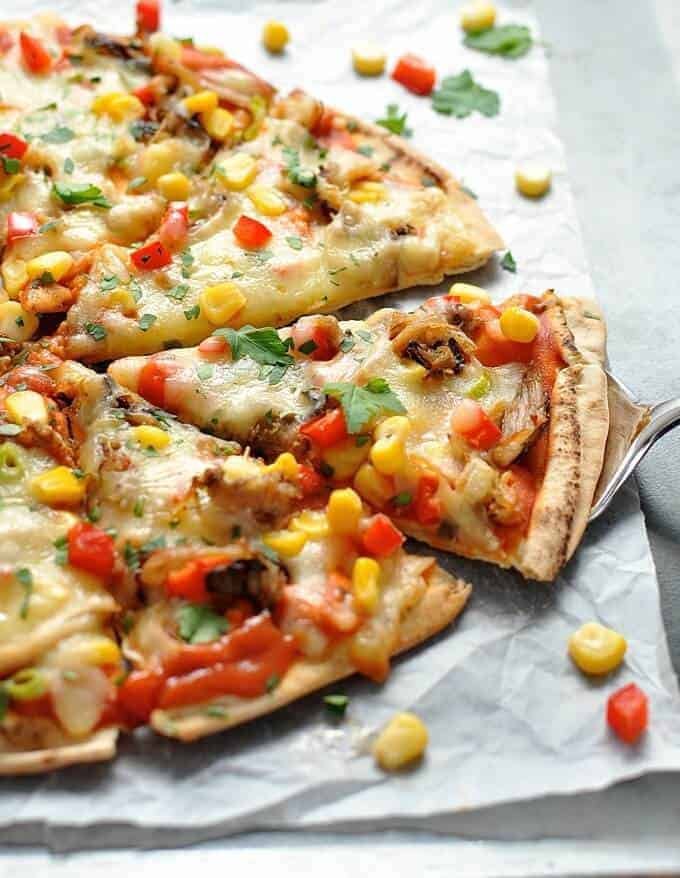 If you cannot get the taco pizza topping idea out of your head, then we are here with yet another similar fusion of exceptional pizza topping ideas for you!
This time it is a fully loaded Mexican pizza with toppings like refried beans, jalapeño peppers, and corn. It will be like an icing on the cake if you can add the pickled red onions; they add a flirty-tangy flare to the pizza.
Psst! hot sauce is a must! Take a look at the list of the toppings used:
Refried beans
Mexican cheese blend
Sliced green onion
Chopped tomato
Corn
Thinly sliced jalapeño peppers
Cilantro
Pickled red onions
Sour cream
Hot sauce
3. Egg Pizza with Pecorino:
Imagine having an egg in your pizza instead of toast! Well, it might sound weird in the starting but when you try it once, you will get a hang of it in the very first instance.
With the choicest pizza topping ideas like red sauce, green veggies and an egg in the middle could only seem like a dream served in a dish. However, an egg on a pizza doesn't mean it becomes a typical breakfast dish.
It in itself is a legit, bang-on delicious pizza topping idea in its own. Here's a list of toppings used on this Egg Pizza:
Olive oil brushed on the dough
Mozzarella cheese
Pecorino cheese
Sauteed scallion greens
Eggs
2. Vegan pizza
To those who think pizza without cheese isn't a pizza at all, excuse us, please! Don't you dare decide this on your own without trying this finger-licking good vegan pizza with jaw-dropping, mouth-watering tasty pizza topping ideas that prove it can actually be the most delicious thing that you have ever eaten.
Here's one of our pizza topping ideas for vegan eaters or just anyone who wants to add more veggies to their diet!
This pizza is loaded with super flavorful veggies that will make sure you don't get a single chance to miss the cheese at all. Here's the list of toppings on this Vegan Pizza:
Pizza Sauce
Mushrooms sauteed with garlic
Chickpeas
Red onion
Spinach
Artichoke hearts
Jarred red pepper, cut into strips
Fresh basil (added after baking)
1. Veggie pizza with avocado and goat cheese
When you are tired of the usual pizza toppings and want to try something that is unusual, exotic and at the same time a good craving food with the just-right taste and you have exhausted your list of pizza topping ideas, don't you worry and try this veggie pizza with avocado!
This one features a smattering taste of delicious vegetables and then you will get dashes of creamy, tangy goat cheese in the end. Its refreshing taste will leave a lasting aftertaste. Take a look into the list of toppings used:
Pizza Sauce
Shredded mozzarella cheese
Sliced red and yellow bell peppers
Red onion
Dollops of avocado
Goat cheese
Fresh basil (added after baking)
What Goes Well With Pizza?
If you are wondering what else you can serve beside the pizza, Check out our 10 Tasty Side Dishes That Are a Match Made in Heaven For Your Pizza!