Grab your chopsticks, because we're about to unlock the mystery behind Kyoto's most exciting food experiences.
Are you ready to explore the captivating and enigmatic realm of Japanese cuisine? Get ready for an exhilarating journey through a world of flavors and culinary secrets!
Imagine a land where food isn't just a meal; it's a tale passed down through generations. Japan, a land of ancient traditions and modern wonders, offers a diverse culinary scene that's as mysterious as it is delightful. Each dish has a story to tell, and every bite is a clue to centuries-old culinary puzzles.
Table of Contents
A Deep Dive into The Food Culture at Kyoto
Let's start with sushi – a treasure trove of flavors neatly wrapped in an intriguing package. Sushi is an art form, a delicate blend of taste and texture that has captured the hearts of people worldwide. Picture a masterful chef crafting sushi with precision and passion, blending the freshness of the sea with the heart of Japanese culture.
But our journey doesn't stop at sushi. Oh no! We're diving deeper into the heart of ramen, where noodles swim in mysterious broths, each bowl a universe of its own. Ramen joints are like hidden gems, each with its secret recipe guarded like a precious gem. Slurping noodles here isn't just acceptable; it's a sign of approval and excitement, a way to show the chef that their creation has left you spellbound.
Ever heard of Tempura? Imagine crispy, golden-brown delights – from shrimp to vegetables – mysteriously coated and fried to perfection. Tempura isn't just about the taste; it's about the sound of the sizzle, the anticipation of that first crunch, and the secrets held within that delicate, crispy armor.
Now, let's talk about gyoza – savory dumplings that are as intriguing as they are delicious. These dumplings hold a filling of mystery, encased in a thin dough, and when you take a bite, it's like unraveling a culinary riddle. Will it be pork, shrimp, or a delightful mix of flavors? That's the gyoza enigma!
Ah, and who could forget the tantalizing teppanyaki, where chefs work their magic on a hot grill right before your eyes? The sizzling sounds, the mesmerizing flips, and the aroma that fills the air – it's a performance and a feast rolled into one. It's like being in the front row of a food show!
Japanese cuisine is not just about the flavors, but also about the experience. The way a meal is presented, the ambiance of a restaurant, and the warmth of the people – they all add to the mystery and excitement of your culinary quest. From hidden sushi gems to secret coffee spots, Kyoto, the ancient capital of Japan, is a treasure trove of culinary adventures waiting to be explored.
So, gear up and get ready to dive into the captivating world of Japanese cuisine. Uncover the secrets, solve the mysteries, and savor the magic that Japan's gastronomic wonderland has to offer. Delicious surprises await – let's dive in!
1. Sushi Quest in Kyoto: Unlock the Secrets of Sushi!
1. Sushisei – The Downtown Sushi Oasis: Picture this – hidden in plain sight, a sushi haven, Sushisei, beckons you. Its secret? Unbelievably tasty sushi that doesn't empty your pockets! It's also welcoming to foreigners, making it a top sushi destination.
2. Azuma Sushi – Uncover the Hidden Sushi Gem: Delve into the heart of Southern Higashiyama, where Azuma Sushi awaits your discovery. It's the local secret for scrumptious yet wallet-friendly sushi. The mission? Savoring delicious sushi without breaking the bank.
3. Den Shichi – The Sushi Mystery Unveiled: Enter Central Kyoto's sushi sanctuary – Den Shichi. Step into a classic sushi bar atmosphere, where mouthwatering sushi is the star. The secret? You don't need to be a sushi expert to enjoy it!
2. Kyoto's Café Chronicles
1. Café Bibliotic Hello! – The Hipster Hideout: Imagine a café concealed within a machiya, blending tradition with the trend. Welcome to Café Bibliotic Hello! Apart from its cool name, it's a secret treasure trove of deliciousness.
2. % Arabica Higashiyama – The Coffee Conspiracy: A coffee revolution is brewing in Southern Higashiyama! This secret coffee spot is a stylish hotspot serving the best coffee in Kyoto. It's the perfect place to unravel the mysteries of caffeine!
3. Kurasu Kyoto – The Coffee Adventure: Just a few steps from Kyoto Station, Kurasu Kyoto is a stylish café that serves up excellent coffee. The twist? They're English-friendly, making it a secret hub for travelers like you.
3. Family Food Fun
1. Ganko Sushi – The Downtown Delight: In the heart of Downtown Kyoto, Ganko Sushi is your family-friendly haven. With spacious seating and a menu that covers all things Japanese, it's the perfect spot for a family food adventure.
2. Ootoya Gohan-dokoro – The Healthy Secret: Ootoya chain's secret? A casual and healthy dining experience that pleases all palates. The best part? It's quick and won't burn a hole in your pocket.
4. Gyoza Galore in Kyoto
1. Tiger Gyoza Kawaramachi – The Dumpling Discovery: We're not into food snobbery, and here's why – Tiger Gyoza Kawaramachi serves epic dumplings. Pan-fried, boiled, fried, or veggie, they have it all. The secret? Chain restaurants can be amazing!
2. Gyoza Hohei – The Geisha Gyoza Hideout: Picture this – in the heart of the geisha district of Gion, Gyoza Hohei is serving up garlicky dumplings. The bonus? You might spot a maiko or geiko enjoying a plate of gyoza! The mystery deepens.
3. Kyoto Gyoza Bar Anzukko – The Pocket-Sized Enigma: Anzukko, a hidden gyoza bar near Sanjo Station, is all about inventive gyoza. This pocket-sized slip of a restaurant is a secret treasure chest for gyoza lovers like you!
5. Izakaya Intrigue
1. Kikkoya – The Homestyle Hideaway: Fancy dinners all the time? Not in Kyoto. Kikkoya, tucked away in downtown Kyoto, serves homestyle cooking heavy on veggies and flavor. The secret? Casual can be extraordinary!
2. Suiba Shijo Kawaramachiten – The Standing Sensation: For a fun, wallet-friendly night out with friends, try a standing izakaya like Suiba in Shijo Kawaramachi. Good, affordable food and drink – what more could you ask for from dinner?
3. Jojo – The Station Surprise: A cool casual izakaya within walking distance of Kyoto Station, Jojo is one of our favorite restaurants in the Kyoto Station area. The secret? It's a hidden gem for travelers.
Recommended: Reasons Why Belgium Food Is Worth Dying For!
6. Kaiseki Quest (Japanese Haute Cuisine)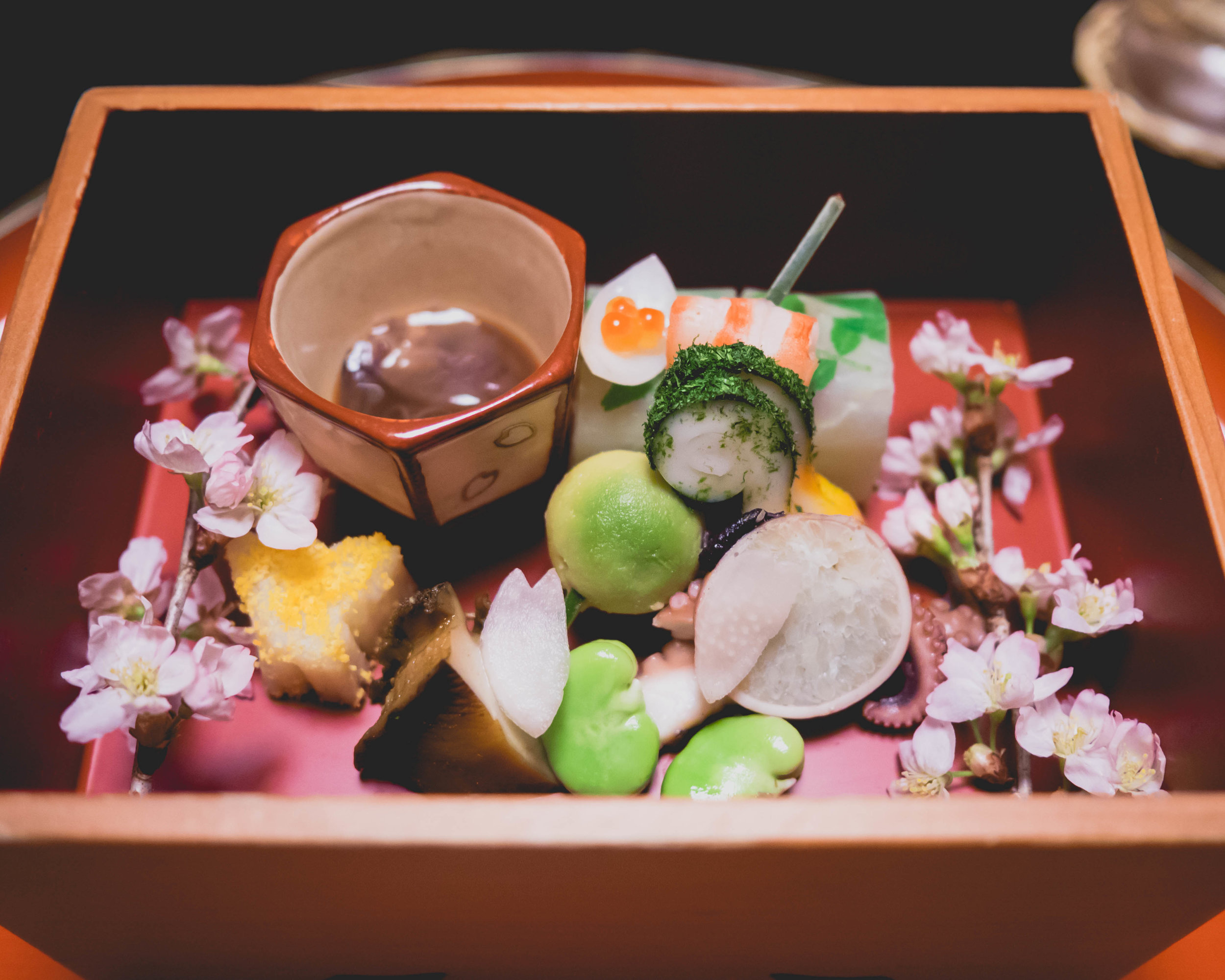 1. Kikunoi – The Gourmet Mecca: Kikunoi in Southern Higashiyama is a mysterious gourmet paradise known for its world-famous kaiseki cuisine. Are you ready to unveil this culinary treasure?
2. Roan Kikunoi – The Unconventional Secret: Roan Kikunoi, the sister restaurant in Gion, offers an unorthodox yet tantalizing take on classic kaiseki. The mystery? It's more affordable than you think!
3. Guilo Guilo Hitoshina – The Warehouse Wonder: Hidden in a renovated warehouse south of Gion-Shijo Station, Guilo Guilo Hitoshina offers a modern twist on kaiseki at astonishingly affordable prices. Time to crack this culinary code!
7. Japanese Tea and Sweet Secrets
1. Kasagiya – The Most Atmospheric Tea House: Kyoto's most atmospheric tea house, Kasagiya is a must-stop for hot matcha tea and sweet lovers. The secret? It's where tradition meets taste!
2. Kagizen Yoshifusa – The Serene Sweet Shop: Kagizen Yoshifusa, a traditional sweet shop in Gion, has a serene tea room where you can enjoy traditional sweets with cups of thick matcha tea. The mystery? It's a tranquil escape!
3. Saryo Housen – The Suburban Surprise: Saryo Housen is hidden away in the suburbs of Central Kyoto. This hidden gem is one of the city's finest shops for tea and sweets. The secret? It's well worth seeking out!
8. Kissaten Chronicles (Retro-Style Cafes)
1. Smart Coffee – The Retro Revival: Retro kissaten Smart Coffee in Teramachi Shopping Arcade doesn't just serve fantastic coffee; their egg sandwiches are killer. The secret? Spare some time for breakfast or tea here!
2. Otafuku – The Downtown Escape: For a quick escape from downtown Kyoto, Otafuku in Kawaramachi is a retro kissaten with a twist. It's a secret portal to another world!
9. Okonomiyaki Odyssey
1. Oagari – The Delicious Mystery: Located near Yasaka Shrine, Oagari in the Gion district is more than just a touristy spot. Top-notch cooking at reasonable prices with an excellent sake selection – it's the secret you've been searching for!
2. Donguri – The Hearty Haven: Here's the secret – Donguri has been serving up okonomiyaki to the hungry masses since 1977. The twist? Locally sourced ingredients make it extra special!
3. Yamamoto Mambo – The Local's Choice: A local favorite, Yamamoto Mambo is a family-run okonomiyaki joint. The secret? Flavorful dishes, iron-griddled to perfection, paired with your favorite drinks.
10. Ramen Riddles
1. Ramen Muraji – The Gion Surprise: For an unexpectedly delicious bowl of ramen in the heart of Gion, Ramen Muraji is the secret spot. Warning: Be ready to wait, or go off-peak for a quick entry!
2. No Name Ramen – The Hidden Gem: No Name Ramen might seem gimmicky at first, but one taste of the ramen, and you'll know it's the real deal. The secret? The taste tells the tale!
3. Towzen – The Vegan Revelation: If you thought being vegetarian or vegan meant missing out on ramen, think again! Towzen serves one of Kyoto's most delicious bowls of soy milk ramen, and it's completely vegan. Let the mystery unfold!
Recommended: Here's Why You Can Never Get Enough of New York's Lipsmacking Ice creams!
11. Resutoran-gai (Food Courts) Revealed
1. Takashimaya – The Seventh Floor Enchantment: Uncover a hidden treasure on the seventh floor of Takashimaya – a resutoran-gai (restaurant floor) that's a great place to eat while exploring downtown Kyoto. Ready to dig into this mystery?
2. Daimaru – The Downtown Culinary Plaza: Dive into a culinary paradise on the resutoran-gai (restaurant floor) at Daimaru Department Store. It's a collection of Japanese and international restaurants, right in the heart of downtown Kyoto. The secret? Something delicious awaits around every corner!
3. Eat Paradise – The Station Food Adventure: The best collection of restaurants in Kyoto Station, Eat Paradise is our favorite place for a sit-down meal before getting on a train or exploring the area. Can you uncover all the culinary delights it holds?
12. Shojin Ryori (Japanese Buddhist Vegetarian Cuisine) in Kyoto
1. Shigetsu – The Temple of Taste: Inside the grounds of Tenryu-ji Temple lies Shigetsu, a haven for traditional Japanese Buddhist cuisines, also known as shojin-ryori. Are you ready to unravel the secrets of this ancient cuisine?
2. Izusen Daiji-in – The Vegan Voyage: Looking for a vegan meal in beautiful surroundings? Try a shojin-ryori lunch at Izusen Daiji-in in Daitoku-ji Temple. Their gorgeous and elaborate meals are sure to be a highlight of your visit to Kyoto. It's a secret vegan adventure!
3. Ajiro Honten – The Vegan Gourmand's Delight: Whether you're vegan or not, gourmands should head to Ajiro Honten near Myoshin-ji Temple to enjoy gorgeously cooked, multi-course Buddhist temple vegan meals. The secret? They're the longest-running vegan restaurant in the city to keep their Michelin star. A Michelin star and vegan? The mystery deepens!
13. Shokudo (All Round Restaurants) Adventures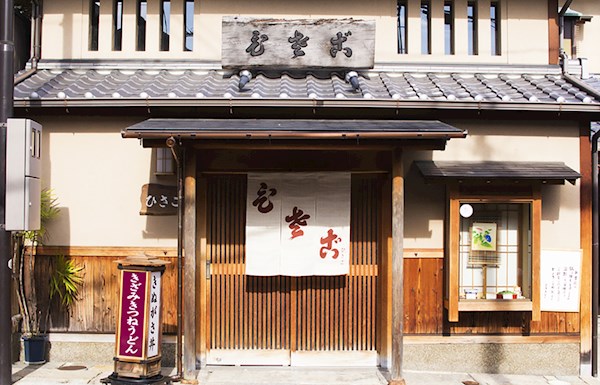 1. Asuka – The Higashiyama Hideaway: Asuka, a homey shokudo on the main Higashiyama tourist trail, is a local secret. The twist? An English menu and a friendly staff ready to introduce you to Kyoto's culinary mysteries.
2. Hisago – The Hidden Gem: Hisago is a good restaurant near Kiyomizu-Dera Temple, Kodai-ji Temple, and Ishibei-koji. It's not much to look at, but the noodles and rice dishes are tasty. Uncover the flavors of Kyoto hidden in plain sight!
14. Soba/Udon Odyssey
1. Omen Ginkaku-ji Branch – The Udon Revelation: Just down the hill from Ginkaku-ji Temple, Omen is one of our favorite restaurants in Kyoto. They serve some of Kyoto's best udon noodles. The secret? Hidden flavors in a bowl!
2. Honke Owariya – The Soba Sensation: Located in an atmospheric old wooden building, Honke Owariya is arguably the best soba restaurant in all of Kyoto. The secret? A historical setting steeped in tradition!
15. Sukiyaki Dreams
1. Mishima-tei – The Sukiyaki Secrets: For some good sukiyaki, try this reliable old specialist in the Teramachi Shopping Arcade. The mystery of Mishima-tei awaits your uncovering!
16. Tempura Temptations
1. Kyo Tominokoji Tempura Yoshikawa – The Tempura Treasure: Yoshikawa Tempura serves Kyoto's best tempura in a beautiful old wooden building built around a sublime Japanese garden. The secret? Crispy tempura dreams in a hidden garden!
2. Tempura Endo Yasaka – The Century-Old Delight: How many tempura places can you name that have been in business for more than 100 years? Tempura Endo Yasaka has been deep-frying food with a flair for the last century – with tempura this good, it's no wonder they're still around. The secret of their longevity? It's all in the batter!
3. Tenyu – The Fresh and Fried Delights: Fresh ingredients superbly deep-fried in crisp batter – what's not to like about tempura? Tenyu near Kyotoshiyakushomae Station has some of the best in Kyoto. Head over there to have your idea of tempura redefined. Unveil the secrets of golden tempura perfection!
17. Tofu Tales
1. Tosuiro – The Tofu Adventure: If you think you know tofu, think again! The artisans at this branch of a famed Kyoto tofu restaurant chain do more with tofu than you'd have thought possible. Prepare to enter the realm of tofu magic!
18. Tonkatsu Trails
1. Katsukura Sanjo Main Shop – The Tonkatsu Extravaganza: Widely known as Katsukura, this restaurant's tonkatsu is a cut above many places: the pork is excellent, and the sauce is homemade. Plus, the Sanjo main shop in downtown Kyoto serves tasty crab croquettes and chicken cutlets – perfect when not everyone wants to eat the same thing! Uncover the mysteries of tonkatsu perfection!
2. Tonkatsu Butagorira – The Crispy Crunch: The oddly named Tonkatsu Butagorira serves up some super-crispy batter – encasing juicy pork loin cutlets, of course! Eating this cheap and cheerful meal is best paired with a visit to nearby Nijo Castle. Discover the crunch that echoes through the ages!
19. Unagi Unveiled
1. Kane-yo – The Delicious Adventure: Kane-yo is one the best places in Kyoto to sample unagi (eel). The place positively oozes "old Kyoto" charm and the unagi is delicious. Dive into the depths of eel delight!
2. Unagi Hirokawa – The Grilled Eel Star: Unagi Hirokawa is an excellent Michelin-starred grilled eel specialist located on the main street of Arashiyama. But be warned: Book ahead or wait hours in the queue. Unveil the Michelin-starred mystery of the eel!
3. Pontocho Izumoya – The Eel by the River: Located along the Kamogawa River, Pontocho Izumoya has been serving up deliciously tender and smoky eel for over a century now. As a bonus, it's pretty tourist-friendly, too. The secrets of the riverbank eel adventure await!
20. Vegan and Vegetarian Voyages
1. Ain Soph Journey Kyoto – The Vegan Wonderland: A vegan meal in downtown Kyoto has never been easier to find. Just head to Ain Soph Journey right off Shinkyogoku Shopping Arcade. The food is decent, but their desserts are even better – we recommend the pancakes and chocolate gateau. Delve into the world of vegan delights!
21. Yakitori Quest
1. Bajitofu – The Yakitori Wonderland: You won't have to wander far out of downtown Kyoto to find great yakitori. Bajitofu is a centrally-located izakaya serving some of the best in town. Reservations recommended. Prepare for a yakitori adventure!
Conclusion
There you have it! Kyoto has something for Everyone!! We hope that this ultimate guide to unlocking the gastronomic mysteries of Kyoto helps you save time while you travel to one of Asia's most beautiful cities, Kyoto.
Grab your friends and head out on a food adventure worth a lifetime! The secrets of Kyoto's food scene await the bravest of food explorers! Bon Voyage! Gokigenyou!!
Disclaimer: We do not own any images posted in this article. It belongs to its respective owners. We do not use any of these images for commercial purposes. We intend no copyright infringement. Please let us know if we have accidentally used an image you own, we will remove it immediately.