I would love to share with you guys some amazing detox drinks to try this summer with food items, easily available in your kitchen.
In this lockdown, we all have been craving for and eating a lot of junk food either by swiggying from our favourite restaurant or binge-eating every next thing that comes to your hand!
I am so sure that we all have gained a lot of kilograms in these three months. So why not shed those extra pounds that we gained during this Quarantine?
I am sharing with you guys, some of my favourite Detox drinks to try and shed those extra kilos just by being at home!
Thirst-quenching Detox drinks in this scorching heat:
1. Watermelon slush
The first among these three detox drinks is the watermelon slush! Who does like watermelon? It not only rejuvenates freshness but is a good treat to your taste buds as well!
Benefits of watermelon slush:
It is a good source of potassium that helps in controlling heart rate.
It leads to a healthy vision and immunity due to the presence of Vitamin A.
It keeps your body hydrated.
It contains Vitamin C, which is an antioxidant.
It helps to prevent cell damage.
It is easy to prepare.
Ingredients: Watermelon  – 500gms, Black salt – 1tsp, Lemon Juice – (squeezed from a half lemon)
How to prepare: In a grinder, add frozen watermelon cubes, add black salt, add lemon juice, grind it. Pour it in a glass and serve it.
Best time to have it: Breakfast time and Dinner time
2. Papaya Smoothie
The second on this list of detox drinks is the papaya smoothie. Papayas have innumerable health benefits some of which are listed below.
Benefits of Papaya Smoothie:
It reduces the risk of heart diseases, diabetes and cancer.
It aids digestion.
It helps in improving blood glucose control in people with diabetes.
It helps lowering blood pressure.
It improves wound healing.
Ingredients: Papaya-500gms, Chilled water – 1 glass, Sugarfree – 1tsp, Soaked Chia seeds (optional)1tsp.
How to prepare: In a grinder, add chopped pieces of papaya, pour chilled water, grind it and make it a fine paste. Pour it in a glass, add sugar-free powder, mix it well and garnish it with soaked chia seeds and serve it.
Best time to have it: Breakfast time
3. Cucumber and Mint Slush 
When you see cucumber slices you might think of a day at the spa, but this veggie has the power to reduce more than under-eye puffiness. I'm talking about your belly too! At only 16 calories per cup, cucumbers are among the lowest-calorie vegetables around.
Benefits of Cucumber Slush:
It helps you lose weight and keeps you hydrated.
Supports healthy digestion.
Reduces inflammation.
Healthier heart.
Improves your skin by flushing out toxins.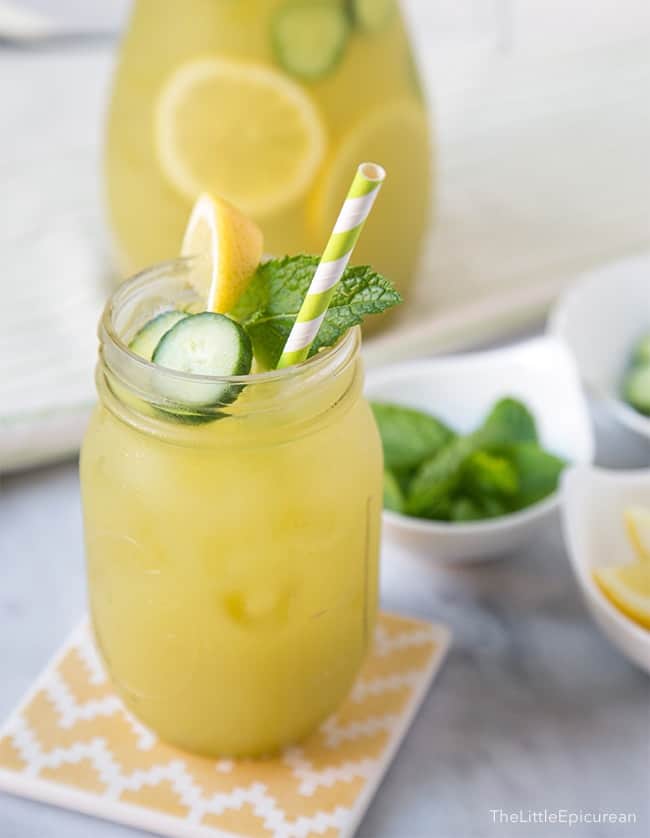 Ingredients: Cucumber -1pc, Mint Leaves – 6-7 leaves, Lemon juice – squeeze a half lemon, Chilled water 1 glass, Ice cubes.
How to prepare: In a grinder, sliced and peeled  1 cucumber, mint leaves, water grind it to a smooth paste, pour In a glass add some ice, pour the drink and squeeze some lemon juice. Your Cucumber mint lemon slush is ready.
Best time to have it: Morning and Evening time. 
Do try out these delicious detox drinks and give me your valuable feedback.