Shopping in Rajasthan is all about bright colours and the royalty mixture in trinkets, spices and leather goods apart from the royal jewellery. The state has the power to make your go in awe looking at its art and historical monuments.
People come here from all over the world and carry double the luggage home. Some of the popular and colourful markets in famous cities in Rajasthan are listed as under:
1. Nehru Bazar
The multi-colored juttis in Nehru Bazar attract lots of visitors to this amazing market. These juttis are handmade enhancing the look of any outfits. Not just the footwear, it is also widely known for its handicrafts, textiles, bags, and pottery works.
It is an admired hangout place for locals and tourists. Learn bargaining tricks for getting items at reasonable prices. Take away souvenirs from Nehru Bazar for your loved ones. The market is open from 10.30 am to 7.30 pm.
2. Johari Bazar
Johari Bazar is the ethnic jewelry Bazar in Rajasthan. The intricate Kundan and Meenakshi jewelry appeal to all women of any age. The ornaments are adorned with semi-precious gemstones.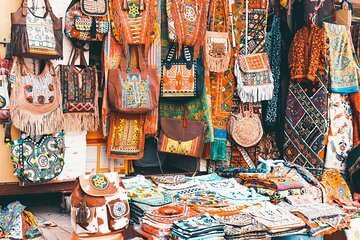 The prices range for various jewellery. The Rajasthani sarees and Lehengas are worth buying in this Bazar. And if you are a foodie, try out authentic Rajasthani delicacies from various food stalls.
3. Sadar Bazar
Packed with lots of Rajasthani items, Sadar Bazar is a fun-filled market in Jaisalmer. When in this market, buy carpets, antiques, rugs, apparel, and anything your heart desires.
It is also known for offering many trending items like dye and Khadi fabrics. Everything is available here at wholesale rates. Strolling around the market will leave you awestruck.
4. Bada Bazar
This market in Udaipur is the one-stop destination for clothing, silver, and gold jewelry and copperware. Name something and you will find it here. You will find arrays of stalls selling precious gemstones and leather goods.
Now, in this market, you will find both roadside stalls and stores. Apart from the shopping, if you get tired, you can simply sit in any of the food stalls selling buttermilk, snacks, fruit juices, etc. Check out Bandhani apparels in this Bazar.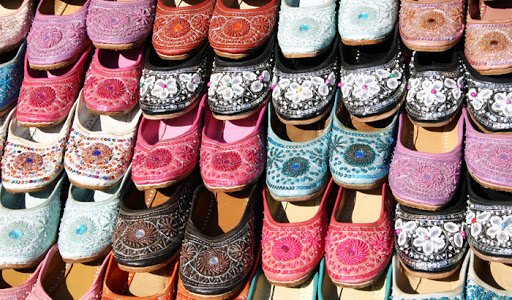 5. Kote Gate Road
Kote Gate is a love for all budget shoppers. Indulge in some great shopping in all the streets filled with stalls.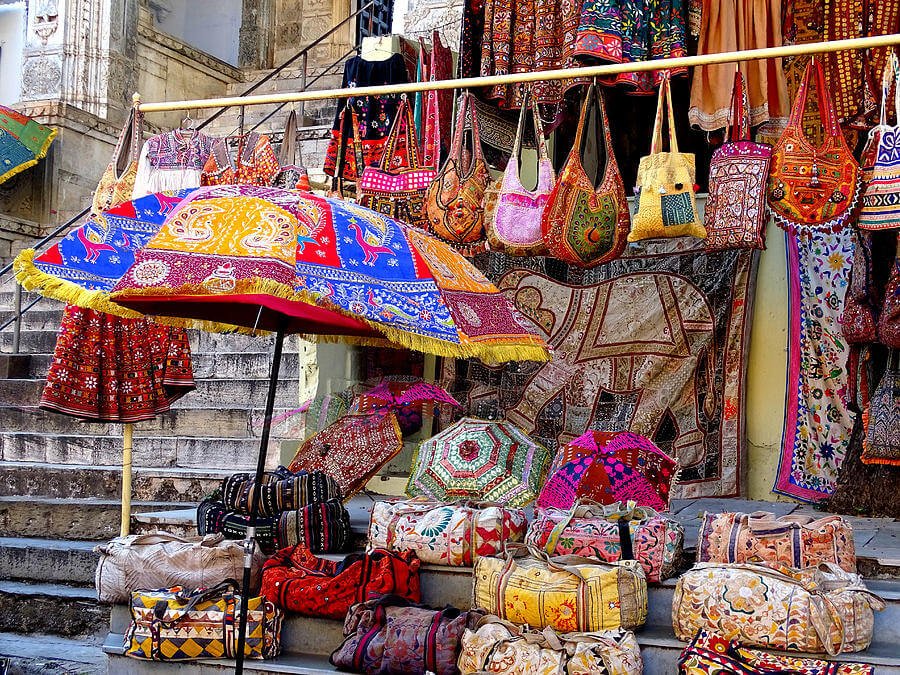 The market shows a vibrant Rajasthani culture. You can buy items like accessories from camel hide, miniature paintings, multi-colored sandals, and colorful Khadi kurtas, etc.
The Bikaneri sweets and namkin are a must-try in this colorful Bazar.
6. Pansari Bazar
Pansari Bazar is one of the oldest markets in Jaisalmer and because of its oldest history, it has its old charm and historic relevance.
This Bazar has many items like unique prints, colours, and patterns. Also buy wall hangings, handicrafts and puppets and bells. Visit Pansari Bazar if ever you are in Jaisalmer.
Always try keeping your bargaining skills ready for bargaining at pricey scales. When in Rajasthan, visit these markets for fun and excitement.