The most searched recipe, to the most loved recipe by everyone. Reaching your home, Dhaba style butter chicken with garlic naan. With quick and easy steps.
Butter chicken recipe:
Ingredients :
Boneless  chicken – 500 gms
Curd -250gms
Ginger garlic paste – 2 tsp
Chopped ginger – 2tsp
Chopped Garlic – 2 tsp
Mustard oil -4tbsp
Butter – 2 tsp
Salt to taste
Deggi Lal Mirch powder -1tsp
Red chilli powder – half tsp
Garam masala – half tsp
Coriander powder – 1tsp
Haldi – half tsp
Butter chicken masala – 3 tsp
Kasoori methi – half tsp
Sliced onions – 4-5
Tomatoes diced -.5-6
Fresh cream – 2-3tbsp
Cinnamon sticks – 2-3
Black pepper seeds – 5-6
Big elaichi- 2
Cloves – 4-5
Bayleaf – 2
Green chillies Chopped – 2-3
Chicken Marination:
In a bowl add boneless chicken,
Add curd, add ginger garlic paste, salt, Garam masala, red chilli powder, Haldi, mustard oil, mix well and keep aside for 3-4 hrs.
For Butter Chicken Gravy:
In a pan, add mustard oil, add cloves, bay leaf, big elaichi, cinnamon sticks, black pepper seeds, add onion, saute, not to make it brown, add ginger, garlic, sliced green chillies, tomatoes, saute it well, until mashed properly.
Add spices now, Haldi,coriander powder, Garam masala, deggi red chilli powder, salt.
Mash well until saucy. Cool it down and grind it and make a fine paste.
Now for Butter Chicken:
In a wok, add mustard oil, add chicken, cook it well, and than add butter chicken gravy, add butter chicken masala, bit of salt if required, crushed Kasoori Methi ,saute well add honey for the sweetness, add cream on top, mix well.
Cook well together for medium thick gravy .
If required add milk for the gravy and not water. Cook well until it's ready to serve
Add cream for the garnish and coriander leaves.
For garlic naan: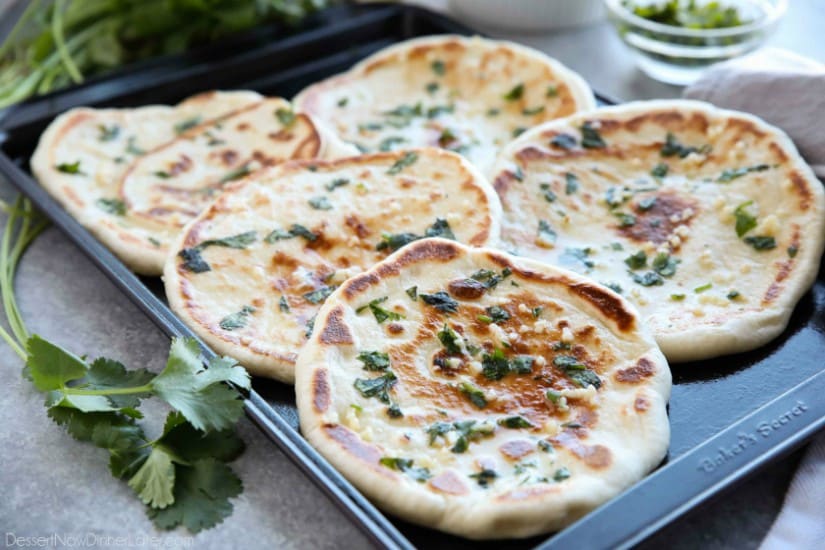 Ingredients:
Maida – 4 cups
Curd- 2-3 tbsp
Baking soda – a pinch
Chopped garlic – 2 tsp
White til – 1tsp
Kasoori methi crushed – a pinch
Coriander leaves- for Garnish
Chaat masala – a pinch
Salt to taste
Garlic Naan Dough:
Make a dough out of maida, curd, add baking soda, salt, mix well and make a dough. No need to add water, after it is done keep it aside and grease it with bit oil over the top. For one to two hours cover it up with a muslin cloth.
For the Naan:
After 2 hours, knead the dough slightly.
Gently roll to oval shape using a Belan(rolling pin) make sure you do not make too thin nor thick. should not be larger than your tawa size.
Grease with water over naan. make sure you coat uniformly. this helps naan to stick on the tawa.
On one side, grease with water, add chopped garlic, Kasoori Methi or coriander leaves, salt and chat masala, add white til,  apply all over the naan, and roll it again with belan.
Now before placing on to tawa, On the other side, grease it with water and place it on tawa and cook it on medium flame
Apply ghee, overall the naan, and on top of where garlic is applied
Cook it well on both side
And top it up with butter cube and is ready to serve.
Key Benefits:
It is Hight Protein and Fat diet. it is good for people who are following Keto Diet. It surely is a treat to your taste buds too!