Stunning beaches, carnivals, vintage cars, great rum, eclectic architecture, warm and fun people, scenic countryside, unique cuisine, and refreshing coffee et al describe the essence of Cuba. Do you need more reasons to pack your bags?
Get in your travelling boots and head to Cuba for an experience that would remain imprinted on your mind forever. Check out these marvellous places.
Maria La Gorda
Maria La Gorda is a small town situated in western Cuba. It is amazing how Maria La Gorda is one of the most sorted places to visit.
Despite the fact that it really doesn't have any of that colonial architecture or lively ambience that Cuba is most famous for. Adventure seekers flock here every year because of its vibrant and thriving marine life.
Things to Do: It is most popular for scuba diving, fishing, sailing, and sightseeing.
Cayo Largo Del Sur
It is a small resort island away from the shore of Cuba. This area is popularly known as Cayo Largo and in the local dialect it means 'Long Cay.' It remains one of the perfect places to visit when you want to get away from the crowd and to enjoy the gorgeous beaches here along with some much – needed solitude.
A popular beach in this island, Playa Sirena attracts hundreds of thousands of visitors every day and throughout the year. Another popular place amongst tourists in Cuba is the Marina that has fascinating sea turtles and tourists often witness seasonal hatchings there.
Things to Do: Swimming, snorkelling, surfing, sight-seeing, and kayaking.
Santiago De Cuba
Situated in Eastern Cuba, popular Santiago de Cuba coastal city tour will literally make you feel like you have entered into the bygone era. The region is still heavily influenced by its colonial past as the magnificent architecture of that period show for it even to this day. The most popular place here is the Parque Cespedes.
It is a plaza that has a large number of colonial structures in and around it. Another popular place here is the Castillo de San Pedro de la Roca, a glorious and breath-taking 17th-century fortress with the view of the ocean.
Things to Do: Sight-seeing and adventure sports at the beach.
Vinales
There are several national parks, each one more beautiful than the other. However, the best one is the one located in the Vinales Valley. The valley is enclosed by mountains and has lots of greenery and tobacco plantations inside.
Several caves are also here, for instance, the Cuevas del Indio or the Indian Caves, which are the most popular caves here. They are also the most sought out places by adventure junkies.
Things to Do: Exploring the National Park, enjoying its lush greenery, boating in the cavern, hiking, and sight-seeing.
Havana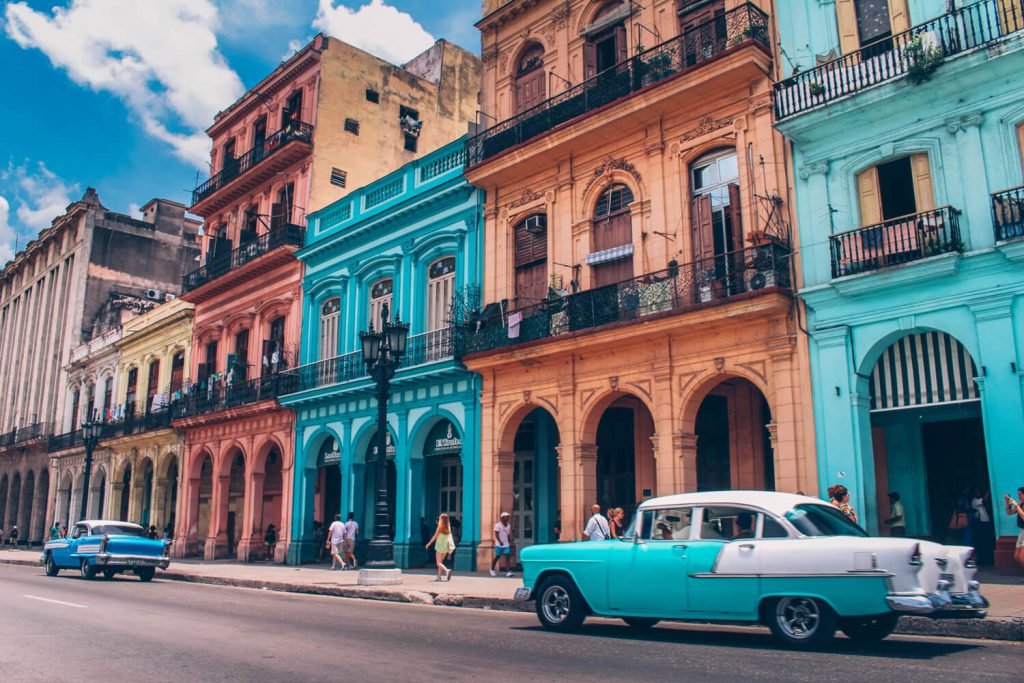 Havana is the capital city of Cuba and it is a worthwhile experience exploring this vibrant city. It has colonial mid-century buildings while it is still one of the unique and modern cosmopolitan cities in the region.
It has an amazing nightlife culture and a coast that is an ideal place for the spectacular views of the landscape and the ocean. It, therefore, remains an ideal spot for tourists and one of the major places to visit in Cuba for unlimited fun.
Things to Do: Adventure sports on the beach, swimming, fishing, and sight-seeing.