Mumbai is a place filled with some of the best places for eateries (Khau Galis) for a wonderful gastronomical journey. Eat the delicious street foods located in the nook and corner of Mumbai. The best thing is you can find food that is easy on the pockets as well.
From Paranthas to Misal Pavs, Pau Bhajis, and desserts, these Khau Galis have something or the other for everyone. Khau Galis have become the favourite hangout place for all the Mumbaikars. Some of the best ones are listed as under:
1.  Ghatkopar Khau Gali
This food street is famous for the remix dosa with the lane filled with several kinds of dosas like cheese burst dosa, noodle dosa, ice cream dosa, thousand island dosa, masala dosa, etc.
This lane provides amazing vegetarian options. There are other interesting items to try like rolls, kebabs, missal pav, eggs and so many more. Must-try places are Jinny dosa, hot Spot, Vikrant Circle, Sai Swad Dosa, etc. Try thin crepes dosas which are a speciality.
2. Carter Road Khau Gali
The pleasant ambiance and the young crowd make Carter Road Khau Gali be one of the famous ones in Mumbai. All the stalls in this lane offer mouthwatering Shawarmas, falafel, momos, Wok-fried Chinese, etc.
And if you are craving something for your sweet tooth, try sugary delights like waffles, frozen yoghurts, or Gulab Jamuns. Some places to try out are Kepchaki momos, Carter's Blues, etc.
3. Mulund Khau Gali
Mulund Khau Gali is on M.G Road in Mumbai and this lane is famous for its signature Masala Vada Pav found only in this region. Some other unique things to try out here are chocolate milkshakes, Pav Bhaji, Tawa Pulao, etc.
Now, the favourite among people is the Blossom Oreo Milkshake which is thick and creamy. The Masala Vada Pavs are very soft and filled with lots of butter and fillings inside.
4. Mahim Khau Gali
Mahim Gali is one of the busiest streets in Mumbai with so many food stalls and street eateries offering varieties of fusion dishes to customers.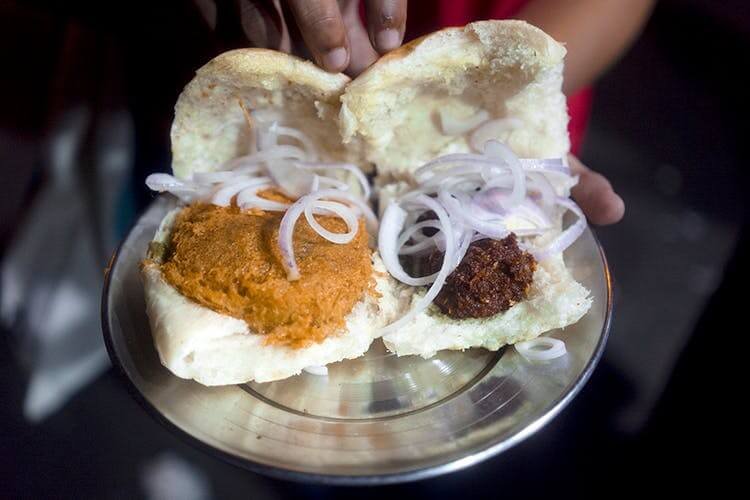 You will find college-goers and young office goers at this place. Some highlight dishes of Mahim Khau Gali are khichda or Haleem, ice cream from Baba Falooda, chicken tandoori, Baida Roti, Sheer Khurma, etc.
5. Princess Street Khau Gali
Princess Street is very close to Zaveri Bazaar and if you are taking a break from shopping, you can come here to satiate your hunger.
Some amazing food items to try here are Samosa Chaat, Badam Barfi, Aloo Papdi, Jalebi rabri, Badam Halwa. While in this place, do not miss out on the variety of milkshakes and juices that you can find here.
6. Kharghar Kha ugali
This Khau Gali functions totally in the evenings with college students coming here for fun and excitement. Steaming hot momos is the bestselling dish here coming in various types.
You will find momo types like steamed, fried, schezwan momos,  momo chat, etc. Chinese fried rice and Manchurian are other specialities found here.
If you are a foodie, visit any of these Khau Galis and you will love the taste of the food you will get here.