So, if you're struggling to keep your brows neat or can't nail that perfect arch, it might be time to seek assistance. By learning the correct methods and techniques for shaping your eyebrows, you'll be able to create the most flattering appearance for your face.
So, before you go pulling out the tweezers and start attacking every little hair, take the time to brush up your skills and perfect your technique with this handy guide. From finding the perfect shape for your face to identifying the best tools for the job. I can show you how to shape your brows like a pro.
Primary Eyebrow Shaping Technique:
While it's always ideal to work with the natural shape of your brows, to achieve the most flattering appearance, you also need to consider your face type.
Before you can even start thinking about removing unwanted eyebrow hairs, you need to decide upon the shape that you want your eyebrows to be.
Having a clear vision of the final form of your brows before beginning will help you to create the best results. While everyone's eyebrows are slightly different, most fall into one of six main categories.
They can either be S-shaped, hard-angled, soft-angled, straight or rounded. In general, the most flattering shape for you will be the one that most closely resembles the natural contours of your brows. However, there are other factors to take into consideration, such as your face type.
Eyebrow Arches:
What Eyebrow arch Should I Have?
While it's always ideal to work with the natural shape of your brows, to achieve the most flattering appearance, you also need to consider your face type. For example, if you have an oval face, most brow shapes will suit you.
However, it's best to avoid those that are overly arched or overly straight. If you have a square face, try to balance your look by ensuring that your brows appear soft with a smooth arch.
For those with a round face, making sure that your brows aren't too thin or too thick is essential. Also, ensure that the beginning and tail of your brows are in line with an arch in between for the best look. If your face is long, on the other hand, aim for slightly thick brows that aren't too long or arched.
Eyebrows are the most highlighted feature of our face, so don't neglect it and learn today,  how to make your brows in the right shape.
Pro Tips For A Perfect Eyebrow:
Regarding the colour of your brows should be identical to the colour of your hair to look more natural. But if you have coloured or blonde hair, go for a dark brown colour to give it a natural look.
 Still, Filling up the eyebrows with a pencil? Use the latest products available in the market, to fill in your brows like eyebrow powder, eyebrow pomades, eyebrow kit, etc.
Don't have an eyebrow kit or eyebrow pomade at home. Not to worry, use any dark brown eyeshadow from your eyeshadow palette to fill in your brows to look close enough to real.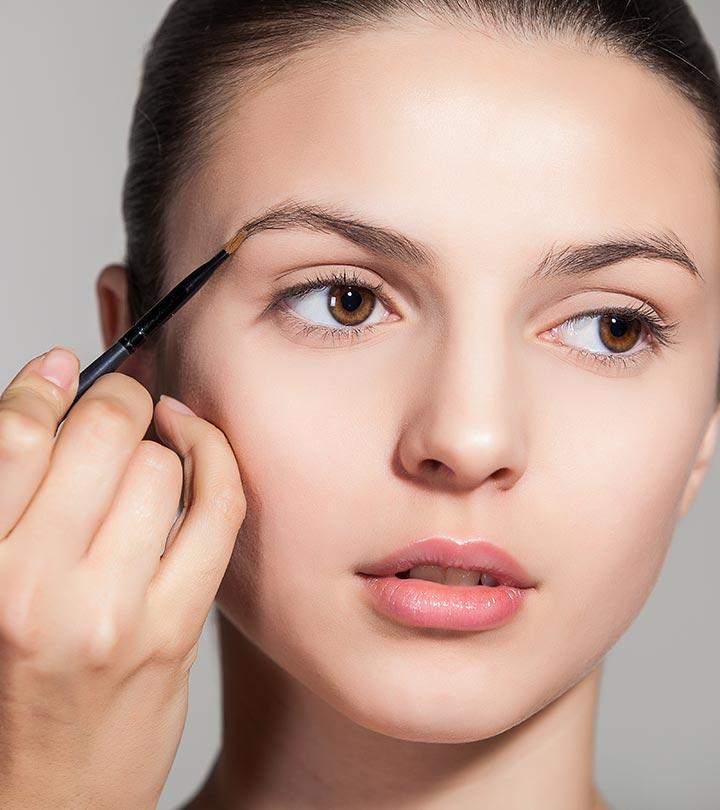 Fill in the brows by outlining the shape with help of an angular brush and dark brown eyeshadow from your eyeshadow palette.
From the starting of the brows, with straight strokes with the angular brush, fill in till the end of the brows.
Fill in the brows according to the shape and growth of the brows in the same flicking motion.
Don't overextend your brows, keep it in the real shape. Your eyebrows naturally should stop at a place that lifts your face up and out, which is what you want to maintain it, shouldn't look droopy.
Give an arch to your brows to look them sharp.
Use a spoolie to buff out any harsh lines to look real.
In the end outline your brows from top to end with help of a concealer, to cut out out any uneven lines.
With the help of a small beauty blender, blend the concealer away by slowly and gently dabbing on the concealer, for the eyebrow shape to look more defined.
Here is my video for your reference: