Belgium with its world-famous cuisine lures every other foodie and traveller to get a taste of Belgium's authenticity and delicacies.
Belgium is known widely for its junk food series but is also a mixture of mouth-watering recipes and dishes apart from just the junk part.  
The cuisine portrays exquisite food styles from France, Belgium, and that of the Netherlands. The food is the very reason for coming to Belgium, not just for foodies but for everyone to get a taste of what heaven feels like.
It satisfies your taste buds to a whole next level. Some of the unique foods to try in Belgium are listed as under:
1. Carbonnade
It is a traditional beef stew made using simple ingredients and is quite rich in taste. Although the main ingredient is carbonnade, but also the crucial element is Belgian dark beer.
The beer adds in sour and earthy flavours complimenting the beef and sweet onions. Bay leaves, garlic, and thyme are added for additional flavours. Slices of mustard bread are added to the sauce for the thickening of the same.
You can find carbonnade being served with Belgian fries, waffles, or vegetables.
2. Waterzooi
It is a Seafood stew having a creamy consistency made using Julien sliced vegetables, egg, and cream-based soup. The soup can be reinvented by using chicken in place of fish for making the soup.
Many restaurants across Belgium offer Waterzooi as a signature dish and are paired with crusty French bread with garnishing of soft parsley or chervil.
3. Pommes Frites
It is an original Belgium dish made with lengthwise cut potatoes and deep-fried in hot oil. It is eaten regularly in Belgium as a snack or side dish.
These are freshly cut into thicker strips and then fried on the spot. Served in paper cones, it comes in different versions in Belgium and served with mayonnaise. Another accompaniment with the fries is the ketchup.
4. Gaufre
These are super tasty and fragrant waffles made with thick dough or batter in a designed waffle iron creating unusual checkered patterns on both sides of the cake.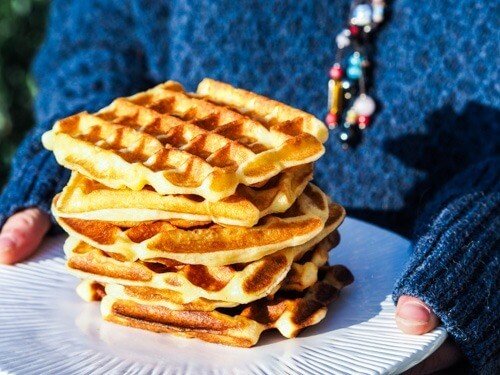 There are two variations to the waffles, one is the light Brussels waffle and other denser liege waffle. The batter is thin and runny in the first one and thick in the latter one.
It is served plain or dusted using powdered sugar. But now in the modern versions, it can be topped with whipped cream and chocolate or caramel.
5. Belgian chocolates
Starting from the 19th century, Belgian chocolates cannot be missed out at any cost. The Belgian cuisine has evolved for fitting into chocolates like pralines with soft chocolate casing. The truffles are ball-shaped hearts having wafers or cream-filled crusts.
6. Moules Frites
It is the traditional food of Belgium featuring the mussels prepared using white wine and classic vegetable broth or simply with Belgian beer.
It is served with fries and dipping in the leftover sauce is the best way of ending the dish.
If you are getting tempted by the Belgian cuisine, plan a vacation soon and ride on this crazy and sweet gastronomical journey in Belgium.