India is famous for its handicrafts and customs which is going on even today. India is one of the topmost culturally acclaimed countries in the world witnessing handicrafts since olden times.
The handicrafts of India have been loved by people worldwide mostly because of its intricate designs and vibrant textures. Many artisans in India are earning livelihoods selling handicrafts, art, and all its creative pieces.
Some of the popular handicrafts found in Indian markets are listed as under:
1. Jute
Jute handicrafts are well known worldwide with jute manufacturers indulging in using Jute to its extremely best. The wide range of jute products include bags, bangles, jewellery, footwear, wall hangings, and so many other things.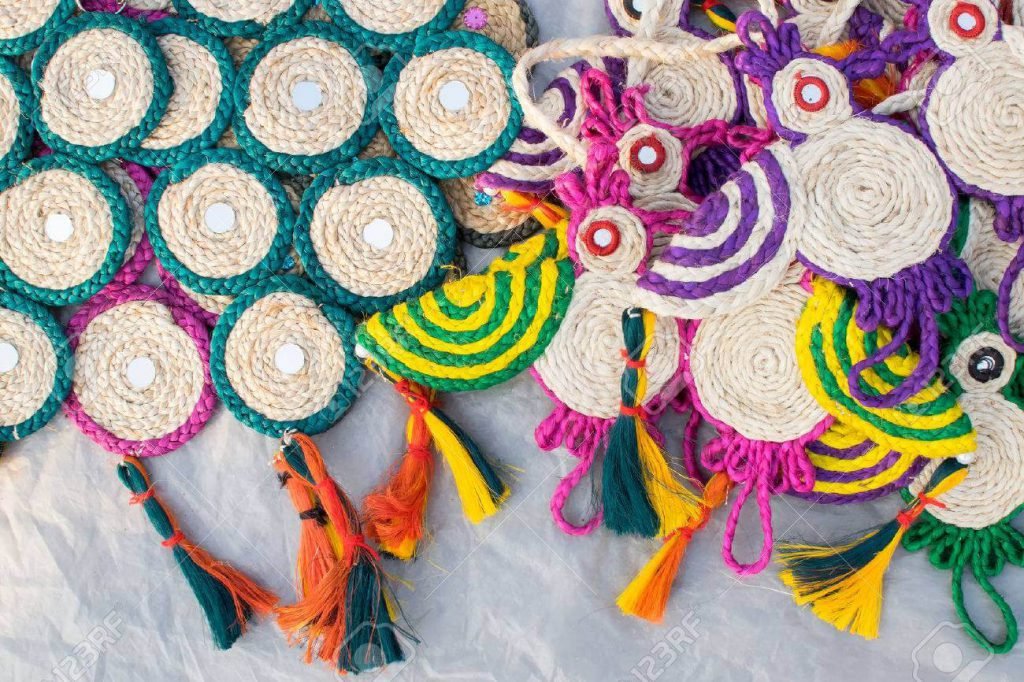 India is particularly the centre for jute handicrafts and people from all over the world come here for buying jute items made to perfection.
2. Pashmina Shawls
Pashmina is wool found in Kashmir where these shawls are made from a fine type of cashmere wool. It is hand-processed making these shawls so silky and smooth.
All the processes of making and processing are done purely by craftsmen and women of Kashmir as well. The approximate time for manufacturing one Pashmina shawl is about 180 hours.
These have exquisite embroidery made using vibrant and vivid colours. These shawls are popular for their softness, also keeping you warm at the same time.
3. Shells
Shells come in three varying forms like conch shells, seashells, and tortoise shells. Many products are made using shells like decorative bowls, forks, bangles, chandeliers, lockets, mirror frames, table mats, curtains, etc.
Shells are found in the Gulf of Munnar, Goa, Pondicherry, and all beach destinations in India. Shells are found at cheaper rates in these beach places. Many people buy shells just for decorating at their homes.
4. Phulkari
Phulkari handicraft is famous in Punjab region and it is embroidering flowers in shawls and head scarfs. It has complex designs with horizontal and diagonal stitches.
The whole process is done using yellow or white silk floss starting from the centre and spreading to the whole fabric called Chashm-e-bulbul. These are bright and colourful appealing greatly to eyes.
5. Carpet weaving
Uttar Pradesh has the largest carpet weaving industry in India and the carpets have such intricate designs of Taj Mahal and other awesome designs on them.
It has more than 500 carpet manufacturing units in Bidohi making it the leading hand-woven carpet industry in the whole of Asia. Kashmir also has many carpet manufacturing industries.
6. Pottery
Pottery has existed since Harappa Civilization and North India is famous for its pottery consisting of various designs in colours like light red, brown, and orange in Uttar Pradesh and changing to black and dark red in Himachal Pradesh.
The pottery in Rajasthan is famous for its geometrical pattern pottery. The blue pottery of Jaipur is also loved by people.
Each region of India has its unique handicrafts adding to the charm of the city. Craft tradition has emerged through generations and will go on for generations. Handicrafts are giving the craft a contemporary look while maintaining Indian heritage.