As the saying in New York goes, "When in doubt, grab an ice cream" still holds. For a scoop of anything cold, just visit an ice cream shop and you are good with a cone or cup. Ice creams are that joy remaining with you forever.
When talking about New York City, there is plenty of ice cream stops here, so don't wait for the deal and let's find out about the best ones in the city:
1. Davey's Ice Cream
Davey's located in East Village of New York offers some very straightforward flavours like strawberry, cookies & cream, and even pistachios. You will get these flavours in any of the styles whether banana split, brownie sundae with hot fudge, or even a milkshake.
The sparkly toppings make these ice creams a wonderful and fun thing to try. If you are wanting some kind of excitement, you can get peanut pie made into a milkshake.
2. Emack & Bolio's Ice cream
This ice cream shop in New York has not changed its menu and even serves ice creams in cones covered with marshmallows and fruit loops.
Take the gorgeous ice creams here selecting your flavours and toppings. Relax as you take the first bite of the ice cream!
3. Sugar Hill creamery
Sugar Hill Creamery has received recognition all over New York.
And they have ice creams that you would want even on a normal day filled with marshmallows, hazelnuts, brownies, graham crackers, and the ice creams served here are so soft and delicate melting in the mouth as soon as you put it.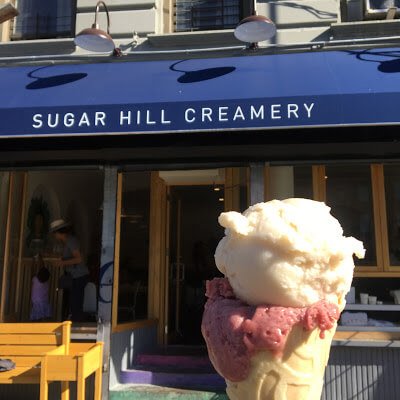 You can prefer some flavours like blueberry cheesecake, strawberry ice creams, or lemon curds. The menus change depending on the season.
4. The Sandwich shop
This place gets fancy with its flavours and has its unique and innovative flavours. The flavours are complex and ruling hearts.
The perfect end to a perfect day would be having its tangy miso cherry flavour which is one of the top flavours in New York. The colours are so bright and vivid, making you drool just with the sight of it.
5. Brooklyn Farmacy and Soda Fountain
Now if you are looking just for a scoop of ice cream, this is not the place you want to be in. Brooklyn Soda Fountain is famous for its large sundae with pretzel rods sticking from the sides.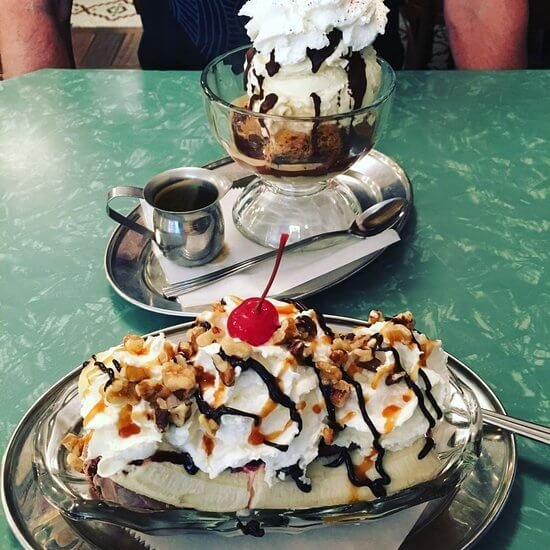 And even, you can be having this in a large cup instead of a glass dessert bowl. The ice cream base is sugary and creamy leaving you wanting more.
6. Ice & Vice
Ice & Vice make their flavours consisting of chilli lime plantain chips or lemon charcoal.
Just go with your guts and choose any interesting ice cream combination you like. It serves some amazing and innovative flavours wanting to be tasted.
7. The Original Chinatown Ice Cream Factory
This ice cream shop has been producing fine quality ice creams for years. They are serving various flavours like Chinese Egg, custard, red bean, and coconut fudge.
Also, you will love the green tea Oreo and black sesame with lots of sesame seeds sprinkled on top.
Craving for Ice cream? Visit any of these while in New York City!