Disney Land World has so many restaurants with varying snacks and desserts for travellers. Whether you are choosing a sit-down restaurant or a quick-service window, there are so many choices for confusing you to a great deal.
With some frequently chosen food items, Disney Land is offering world-class and innovative food-service to its visitors!
With so many snack choices, your head will go swirling in Disney Land. Some of the best items from fine-dine restaurants and quick service restaurants are listed as under:
1. Ohana Bread pudding
The Ohana Bread Pudding is famous in All you can stuff in your mouth restaurant also popular for its chicken, pork, steak, shrimps with pork dumpling, Teriyaki noodles, etc.
But save room for the desserts also unique in this restaurant. This dessert is made with banana caramel sauce with a scoop of ice cream on top. 
You are going to get a pineapple and white chocolate infused bread with vanilla ice cream on top and Banana foster sauce giving it a sweet flavour. It is a lip-smacking dish which is an obvious try here at Disney Land.
2. Mickey Premium Ice Cream Bar
A trip to Disney land is incomplete without a mickey premium ice cream bar. The velvety smooth vanilla ice cream with the generous chocolate coating is delightful during summer months.
It looks awesome and tastes delicious. You will find it all over the resort, as it is a Signature Disney thing when you are in your very special Disney World.
3. Kitchen Sink
The Kitchen sink is a dish found in a soda shop inside Disneyland made using the choicest of ingredients. While ordering the Kitchen sink, you get eight scoops of vanilla, mint chocolate chip, chocolate, strawberry.
Along with it, you get coffee ice cream with properly mashed brownies, hot fudge sauce, angel food mix, bananas, and the best of toppings. This beach joint has every other topping you can find in this world.
4. Waffle sandwiches
Now, waffle sandwiches might sound interesting to you! These are freshly prepared waffles that fold like sort of tacos and then stuffing is there in between.
You usually can find three stuffing inside made with ham, swiss cheese, and prosciutto. The other variant is of Nutella and fresh fruits along with the sweet and spicy chicken.
These sandwiches are small in size but very satiating and appealing to visitors. Also, adding to the different taste, you can mix in Spicy Asian sauce and coleslaw for chicken waffle.
5. Dole Whip
Dole Whip is a kind of ritual while visiting Disney Land. These dole whips are pineapple flavored sold outside Disneyland in small stalls.
Apart from pineapple, if you are craving for something different, try out vanilla or orange dole whip or you can get a mixture of both.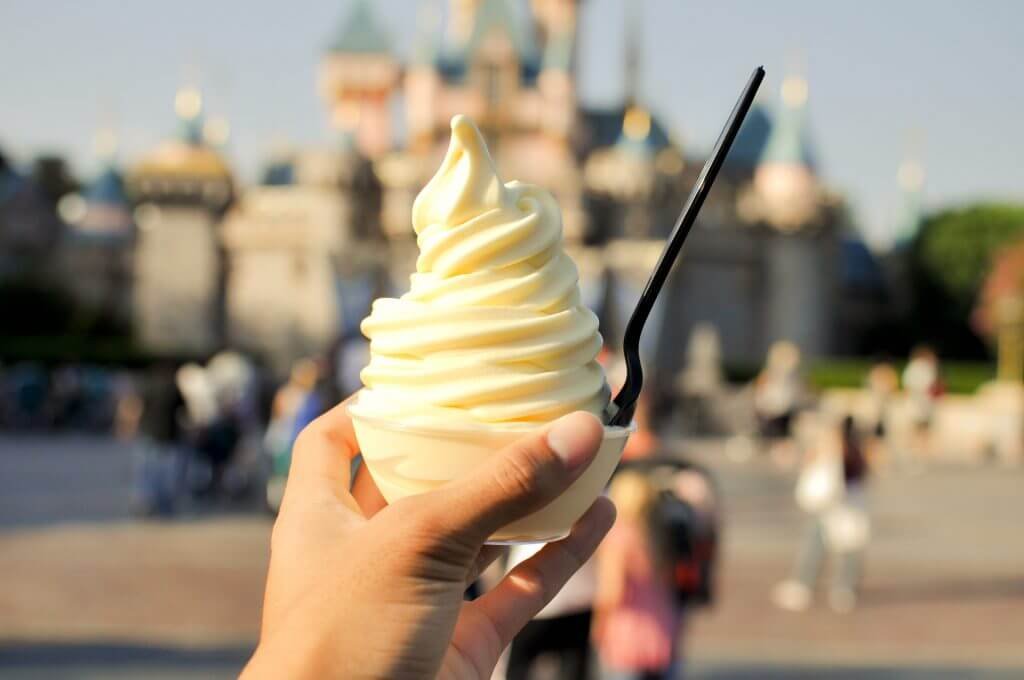 You can also order for pineapple float with a dollop of dole whip of pineapple cream.
6. Chocolate Croissant
The chocolate croissants are buttery and flaky pastries with generous amounts of chocolate coating on top.
These have intense and sweet flavours and sometimes croissants are also served with ice creams on the side for people to enjoy.
These are some of the indulging food items from Disney-world. If you are planning of visiting it, come to these restaurants for a delightful snack!