The serenity and tranquillity of Mussoorie make everyone want to settle down here away from the hustle and bustle of city life. If you are a winter lover, Mussoorie looks heavenly in December with so many amazing places to visit.
It gets quite cold here but the sun shining above the clouds create cosy warmth. And if you are lucky enough you might also get the chance of witnessing snowfall in Mussoorie.
The lowest temperatures can go down from 7°C to 23°C and even in this freezing weather, you can enjoy ice creams at Mall Road. Some of the best places to visit in Mussoorie are listed as under:
1. Dhanaulti
Wrapped up in the Himalayas, Dhanaulti is further up from Mussoorie around 24 km and is a place worth visiting. If you want to experience real winters in Mussoorie, Dhanaulti is the place where you can get lucky.
It sees snowfall in December and January making everything look so magical. The whole of Dhanaulti gets covered in sheets of ice and though it gets pretty cold the experience makes you forget about the cold and lets you enjoy to the very best. 
2. Mall Road
Your trip to Mussoorie is incomplete without visiting Mall Road. Mall Road is such a happening place with so many shopping stalls lined up on both sides of the streets. It has stalls selling beautiful woolen items and family restaurants for having a delicious meal.
The best thing to enjoy here at Mall Road is a plate of boiled eggs served with chillies and ice cream to go with it. Having a softy during winters turn out to be blissful. Try out fast foods in the small stalls which are quite popular.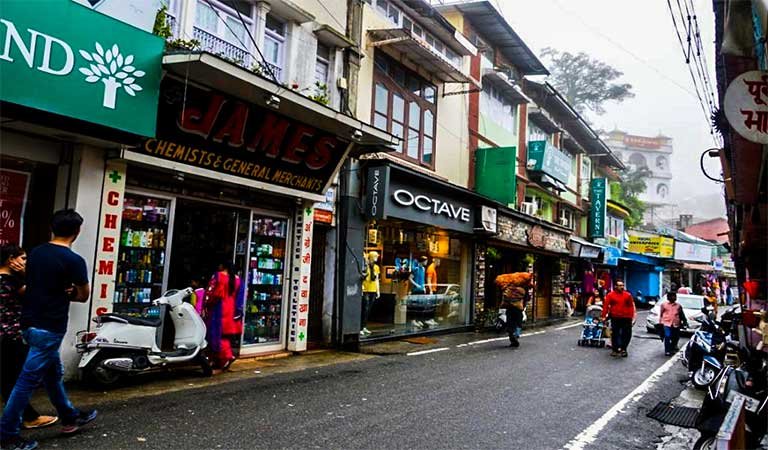 3. Kellogg Memorial Church
If you are looking for an old and charming place to visit in December, you can visit Kellogg Memorial Church built in 1903 having its significance. The church was earlier called Landour Language School where Britishers learned Hindi.
With beautifully stained glasses and Gothic architecture makes this church super amazing. You can just stare at the architecture and seek blessings in the church.
4. Char Dukaan
Char Dukaan is so simple and yet it is crowded daily as people love its food and its tea is simply mouthwatering. You cannot miss out on Chai when in Mussoorie at this place and it is one of the much talked about places in Mussoorie.
Go there on a wintery morning for enjoying a steaming cup of hot tea or coffee along with bun omelette or delicious noodles. Also, if you are craving for some dessert in the morning, try out the waffles sold here.
While visiting Mussoorie in December, pack woollens properly as the weather can get pretty cold and freezing. Take caps, gloves, and mufflers for added protection.
Mussoorie is all about shopping, small cafes with great tea, or coffee amidst watching the Himalayan valleys. Plan of visiting Mussoorie this December and you will fall in love with the place!