What's better than getting up and finding the best breakfast spot? Prague is one such place in the world for getting up late and enjoying a lazy breakfast.
The city has hundreds of cafes serving late breakfasts. It serves various cook up delicacies that you cannot miss for breakfast. This list gives all those places serving royal breakfast every day. Some of the best places are listed as under:
1. Café Savoy
Breakfast at Café Savoy tastes delicious and it serves breakfasts till late afternoons on weekends. You can find a queue outside the café so make sure of doing the reservation before going there.
You will find so many breakfast options like French, English, or Continental. Try Savoy breakfast consisting of a ham sandwich, fried eggs, pastries, croissants, farm butter, jams, and their favourite Savoy chocolates.
2. Waf Waf
Having waffles for breakfast, isn't it just wonderful? Having waffles and pancakes, both sweet and salty is like the best thing on this Earth. Waf Waf offers full breakfast options and they have special menus to choose from.
Pancakes, waffles, anything you can order for delighting your soul and spirit. These are so beautifully decorated with fruits and ice cream toppings.
3. Cafioca
If you are planning of having an elegant breakfast, Cafioca serves everything in a single day. Some of their classics are three eggs in a glass, French omelet with cheese, eggs Benedict, Avocado toast with poached eggs, etc.
Pancakes with maple syrup is also a speciality here. Some other specialities are matcha pancakes with avocado cream, Gruyere cheese, and fried egg and ham. This is a place for all the egg lovers where eggs are made in all ways possible like scrambled, eggs Florentine, Eggs and ham, etc. 
4. Café Malina
With a pink lounge and hand-painted raspberries on the walls, you can expect greatness at Café Malina. It has original homemade cakes which are so delicious and juicy.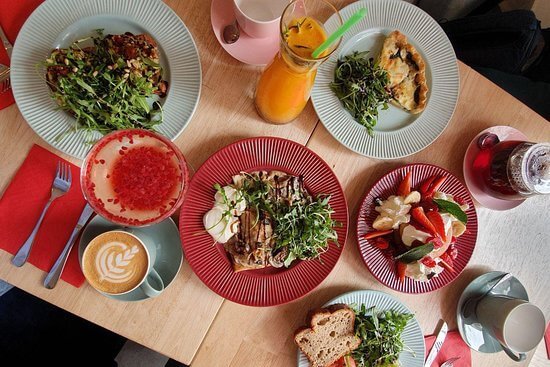 Some other items found here are sun-dried tomatoes, balsamic and pine nuts, ricotta fritters with raspberry and sour cream, omelette with arugula and prosciutto, etc. They have a special gluten-free menu as well. Buckwheat pancakes with mushrooms are a great start for the day.
5. Puaseteria
You will get local delicious breakfast in Prague here until 5 pm every day. Their avocado bread is irresistible. It has been there on the menu ever since they have opened the café but they keep changing the menu according to seasons.
Try their fluffy eggs, Benedict. And if you are craving for something sweet try out homemade matcha pudding with granola, pears, strawberries, kiwi, white yogurt.
6. Coffee & Waffles
Coffee & Waffles do not just serve waffles but they also specialize in oats, rice, Semolina porridge, American and English breakfast, scrambled eggs, Eggs benedict, glass eggs, etc.
Their local waffles are mouth-watering. You can have them sweet or savory with salmon, eggs, peanut butter, marmalade, chocolate, and whipped cream, avocadoes, etc.
These are some of the fantastic breakfast places in Prague. When in Prague, choose any breakfast place and get tempted with a variety of options available there.